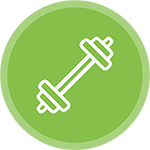 FULL BODY CIRCUIT + PRIMAL PATTERNS 50
Full Body Circuit + Primal Patterns 50 In this 50-minute class we will target the 7 primal patterns:
1. squat 2. lunge 3. hip hinge 4. rotation 5. push 6. pull 7.gait Each class starts off with a 10-minute mobility and flexibility warm-up-up followed by a 20-30 minute circuit training style format with different exercises in the primal pattern sequence. There so many different variations of these patterns, so we will build on new patterns each week! We will end class targeted myofascial work and cool-down.. All fitness levels welcome and modifications are provided.
Sunday 9:00 am
Monday 9:00 am