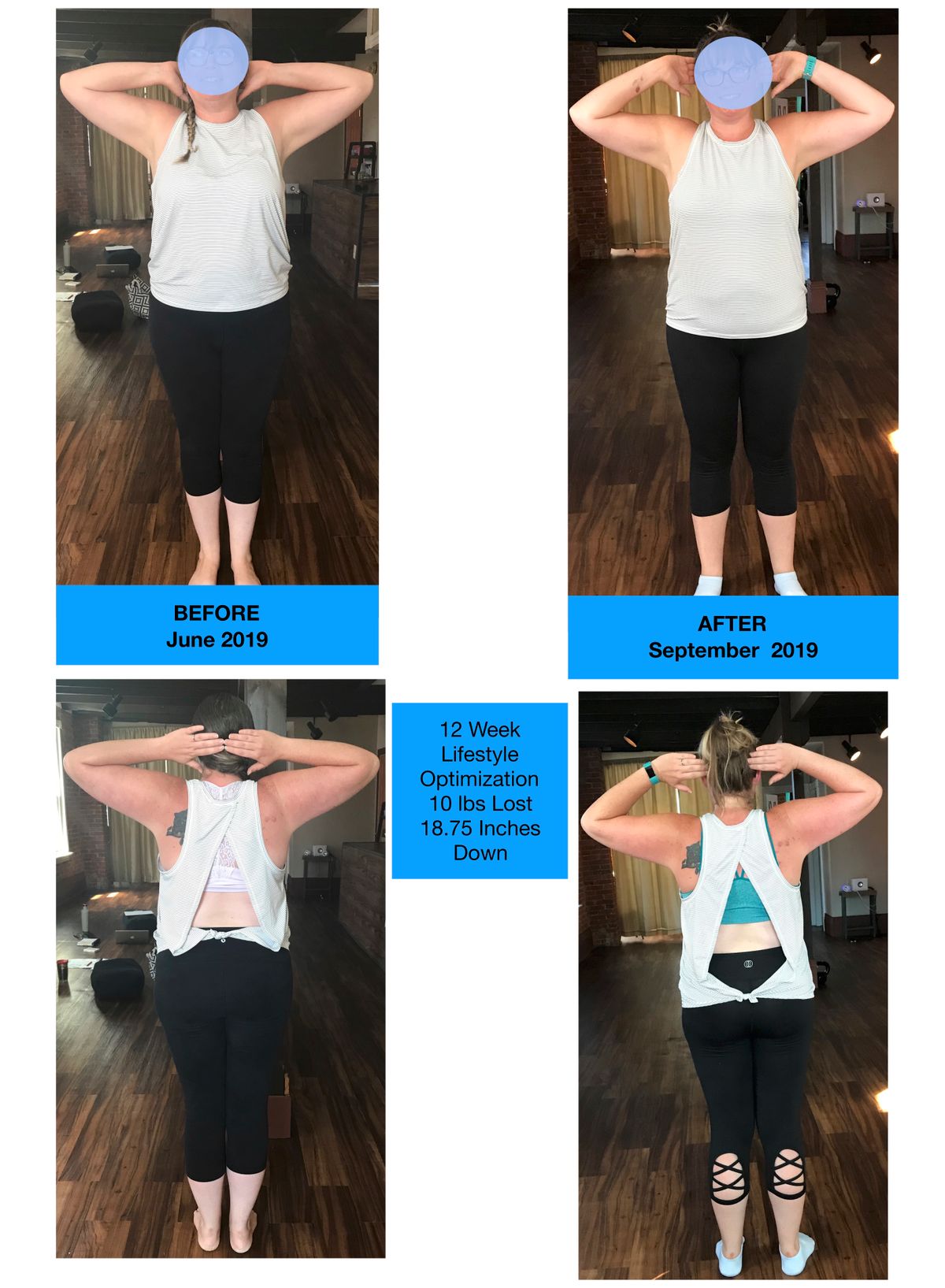 Jessica Z: 10lb. down and 18.75 inches lost!
Have you tried everything to lose weight, only to gain it all back or just stop altogether because it was hard or too expensive? What if weight-loss was no longer confusing and it was sustainable for life! Meet Jess, a busy mom of 2 who lost 10 pounds and almost 19 inches in 90 days, no longer has joint pain and kicked her acid blockers! Magic? No, just tiny lifestyle tweaks that are manageable!
What was your "WHY" to embark on your health & wellness journey with a health coach?
To show my kids/family what it is to be healthy and to have the energy to "play".
Were you able to stop taking any medications or heal a health condition?
Yes!!!!!!!!! No more Omperozle or daily Advil!
How many inches and pounds have you lost with Thrive 9? What dress/pant size did you start with and what size are you now?
18.75ins and 10lbs --I'm a 12 but it's getting too big yet a 10 still doesn't feel "right", lol.
How long did it take you to reach your goal (s)? Do you feel that the program is sustainable?
3 months and counting...it is most definitely sustainable!
What programs/diets have you tried in the past? How did they fail you?
Herbalife & Isagenix -- They were too expensive and as soon as I'd stop I'd gain it back.
What is the most valuable piece of info you've learned with Thrive 9?
You do NOT have to be perfect.
Just move, just get up and move then you'll want to move more...
What does a typical Thrive 9 day look for you food-wise now? Have you established a morning routine?
Weeks with the Boys, Greens/ACV & Smoothie then Salad with chicken and primal dressing then an "approved" dinner (veggies, lean meat)
Weeks without the Boys Greens/ACV & eggs with Spinach, Cheese and Toast (usually a late breakfast so no lunch) then lean meat & veggies
Have you established a regular fitness practice? If so, what have you changed or added?
On a Calendar, yes, in my head, yep...an actual routine that I do every week, I'm working on it. The after school schedule has increased exponentially
so I've been choosing to have a good dinner and early bed. During the day, I'm aiming for 10K steps (bronze medal) and walks during lunch.
How do you look at food now? What is the biggest takeaway you've learned through Thrive 9?
I look at it as it's components, lol. So if it's not a whole food, I think about what's in it, how did it get there, how was it made.
If it's whole, I cram it down my throat....Lol. Just kidding.
What other improvements besides fat-loss have you seen in your overall health?
My skin is healthier, my sleeping and mood are improved. My cycle isn't as painful. I have great energy.
What is the biggest diet & exercise myth that Thrive9 busted for you?
Eating more is actually good for you. You don't need to exercise until exhaustion to see results.
How did you reach your goals and how compliant and consistent were you?
I reached them by getting a friend to join and by doing the work the Spine asks you to do and by keeping in contact with my Coach.
Do you enjoy to move/exercise & eat whole foods now?
You better believe it.
Do you count calories or measure your food?
Ain't nobody got time for that..
Do you still eat all of your favorite things?
Sometimes and in small portions.
Have you worked with a health, nutrition and lifestyle coach before? How was your coaching experience with Christine?
I have not. It was wonderful. I felt supported and inspired. I was educated way more than I imagined and I felt more confident each day.