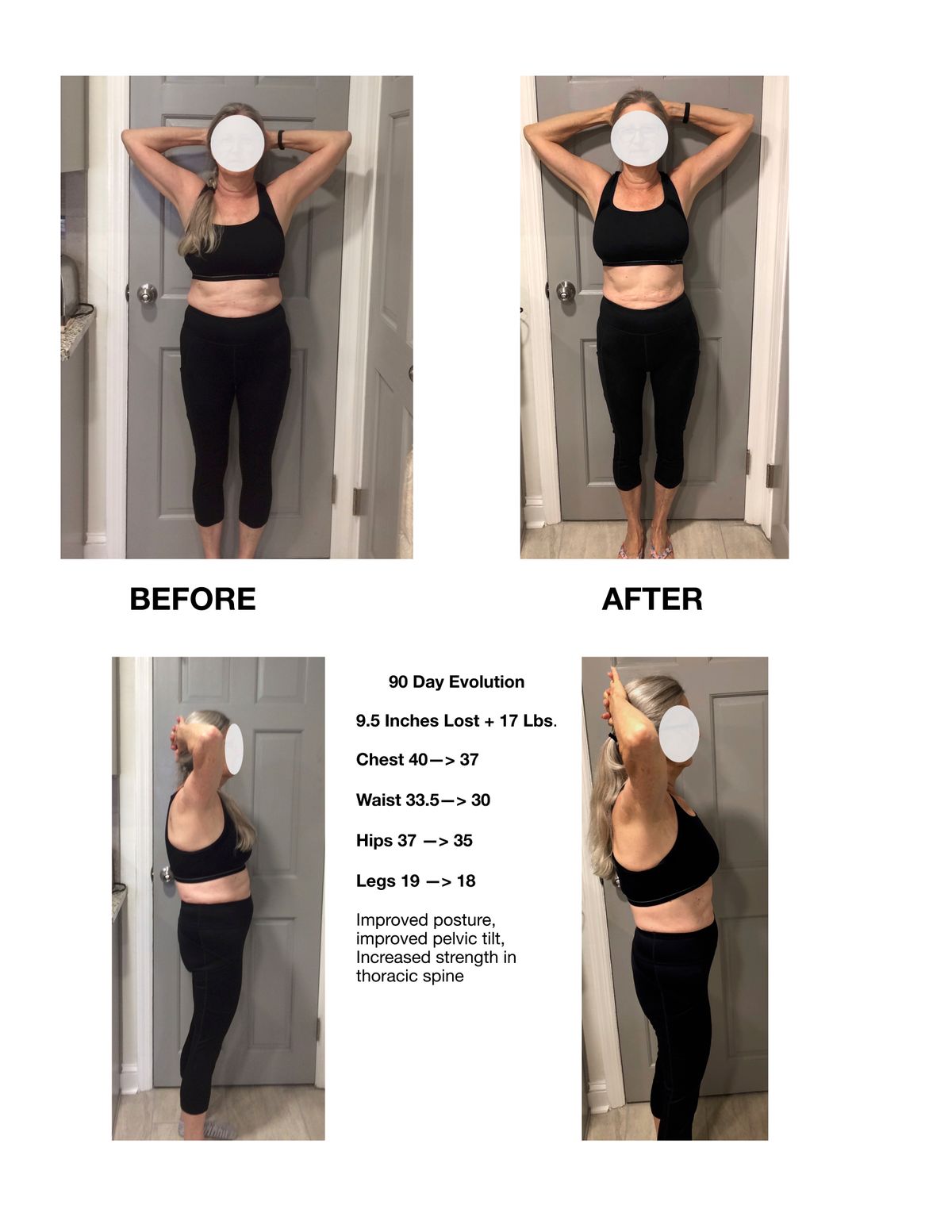 Mary's Journey: 20 Years On Acid Blockers Kicked +Statin Kicked +17 lb & 9 Inches Lost!
I LOVE transformations like these! So often people focus on weight-loss by counting calories, counting points, buying expensive shakes and committing to a crazy exercise program, only to flounder days later and give up altogether! When you shift the goal to HEALTH +GAIN, you'll lose weight as a "side effect"! Mary was on acid blockers for 20 years and didn't know how to wean off of them-long term use of acid blockers cause a plethora of health issues, including vitamin and mineral deficiencies which can have a cascading effect within the body! Her 90 day THRIVE health coaching program changed her trajectory and her life! I'm so proud of her and her results!
What was your "WHY" to embark on your health & wellness journey with Thrive 9?
I was dealing with kidney stones, high cholesterol, acid reflux and osteoporosis. The doctors wanted me to go on new medications for kidney stones and osteoporosis. I was already on a statin for high cholesterol and long-term use of acid reducers and did not want to go on more medicine. I was struggling with what I should and should not eat. I needed help!
Were you able to stop taking any medications?
I was able to stop taking the acid reducer and statin.
How many inches and pounds have you lost with Thrive 9? What dress/pant size did you start with and what size are you now?
9.5 inches and 17 pounds. I went from larges/mediums to smalls.
bust 40 to 37 inches
waist 33.5 to 30 inches
hips 37 to 35 inches
legs 19 to 18 inches
arms 10 inches no change
weight 127 lbs to 110 lbs
How long did it take you to reach your goal (s)?
3 months
What is the most valuable piece of info you've learned with Thrive 9?
I discovered it was very simple. All of my health problems were due to my poor diet, sedentary lifestyle, as well as long term use of acid reducers.
What does a typical Thrive 9 day look for you food wise now? Have you established a morning routine?
Lots of veggies, some fruit, protein and lots and lots of water. Yes. I get up between 6 and 6:30, take my probiotic with my athletic greens, stretch, walk a mile and a half and then eat.
Have you established a regular fitness practice? If so, what have you changed or added?
I am now walking at least 10,000 steps per day as well as 5 minutes of weight bearing exercises and scoliosis exercises. That includes two long walks per day, one in the morning and one after dinner to help with digestion.
How do you look at food now? What is the biggest takeaway you've learned through Thrive 9?
Clean food provides the nutrients my body needs to stay healthy. When I am preparing and eating food, I think of what good things these foods are doing for me.
What other improvements besides fat-loss have you seen in your overall health?
My goal was not weight loss, but it happened just by changing my eating habits. I have less body aches and pains, improved skin, less sinus congestion, more energy, and less acid reflux. Recent lab work showed a great improvement in my kidney functioning. I am anxious to see results of cholesterol testing and bone scan. I have no doubt they will also show improvement.
What is the biggest diet & exercise myth that Thrive9 busted for you?
You do not need to eat on a schedule, but should eat when you are really hungry.
How did you reach your goals and how compliant and consistent were you?
I am very compliant and consistent. It was overwhelming at first, but I went to the grocery store and stocked up on healthy foods and oils. I cleaned out the pantry of processed foods. I just really tried to think about what I was eating and how clean it was and it got easier every day. It helps when you start feeling the effects of your changes.
Do you enjoy to move/exercise & eat whole foods now?
Yes, I enjoy both now.
Do you count calories or measure your food?
Never
Have you worked with a health, nutrition and lifestyle coach before? How was your coaching experience with Christine?
This was my first experience with a lifestyle coach. Christine is wonderful. She is really knowledgeable and so encouraging. She keeps you on target and makes herself available to answer questions that come up while you are going through the process (and I had a lot of questions). I met my goals, feel better and lost weight as an added bonus. I am so happy with the results. I could not have asked for more!